This Friday, May 22, your Norton High Lancers Tennis Boys faced off against the Hopkinton Hillers. In this inner Tri Valley League match the Lancers received another loss at the hands of the Hillers losing 0-5 in the match. After being outplayed and over-matched the Lancers fell to 2-15 on the year as a whole. Although, the Lancers had little to celebrate in the match; they were celebrating their senior night.
Coming into the match the Lancers were over-powered as they met early resulting in an 1-4 loss in Hopkinton. The Hopkinton Hillers have had a very successful season when compared to the Lancers. Norton coach Katelyn Green stressed the importance of "setting small goals" in hopes to improve the play heading into this almost David vs Goliath match. Last match senior captain Brandon Jenkins battled Ryan Mastroieni in an epic 3 set victory in becoming the Lancers only victor of the day. Friday's match would prove to be much different as everyone received losses across the board. Norton High's No.2 doubles team battled in a close first set, but unable to pull through lost 6-7.First Alternate Liam Lenhart moving up and playing at No.3 singles on the day was able pull away with 5 games against Luke Whitehouse of the Hopkiton Hillers.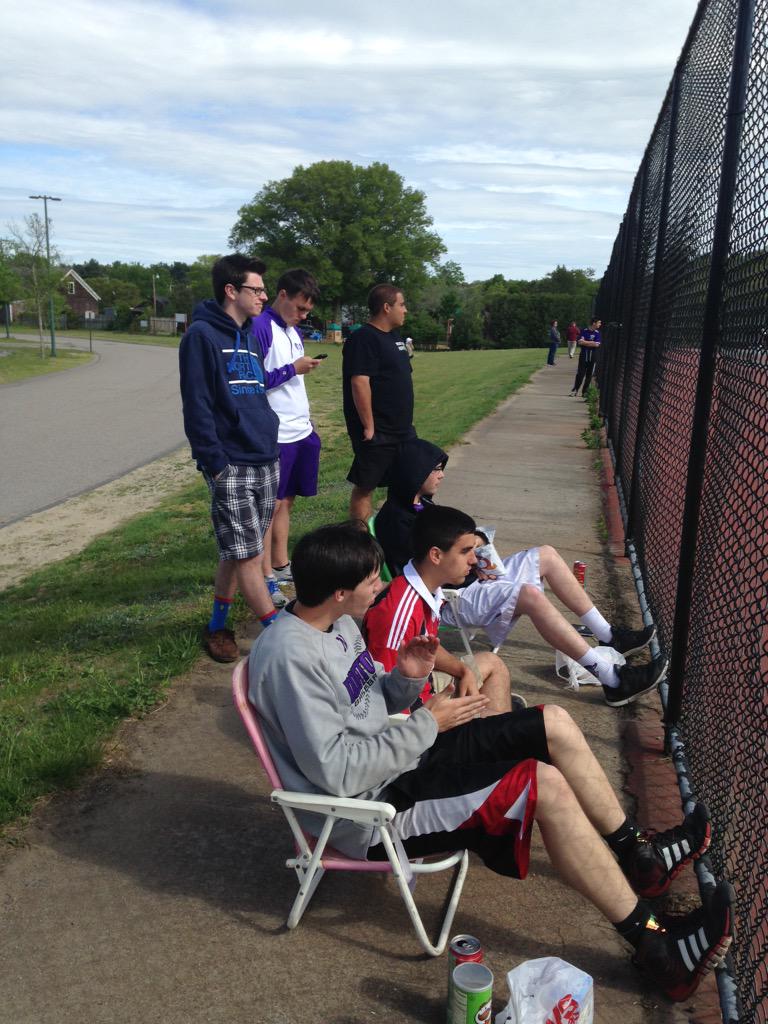 Hopkinton 5, Norton 0
: Ryan Mastroieni (H) def. Brandon Jenkins 6-0, 6-2; Chris Mastroieni (H) def. Alex Belinsky 6-0, 6-1; Luke Whitehouse (H) de.f. Liam Lenhart 6-1, 6-4; Andrew Xu-John Healiff (H) def. Robbie Douglas-Sean Murphy 6-1, 6-1; Will Nadeau-Chris Stattlefield (H) def. Derek Kalnicki-John Munger 7-6, 6-0.
The Lancers have had a rough season, but were hoping their home-court advantage would be enough to rally the troops to a victory. As, the Lancers did receive an extra audience for senior night including some of their fellow Norton High students shown here. The Lancers are saying good bye to eight senior players this season, and even went with an all senior lineup against Hopkinton. As the future of Norton Tennis remains in question with the amount of graduating seniors and lack of participation. The Lancers did seem to show a lack of hope knowing that they were heading up against a better and more experienced opponent.
Even though the Lancers fell to the Hillers in an 0-5 defeat they showed heart as they hustled on the courts. The Lancers were outmatched and lacked in experience compared to the Hillers, but they were able to compete with their hustle on every point. Although there was celebration due to senior night, most of the lancers fought hard to give the crowd something to cheer about. As Liam Lenhart was quoted, "It was a bar fight out there, we had to fight our tails off for every point." The loss didn't stick well for Liam or any of his teammates, but he was quoted "we fought hard out their, and that's what makes us champions at heart." Seniors Sean Murphy and Robbie Douglas experienced a tough 1-6 1-6 loss. There was some disputes in the tough loss as Sean Murphy claimed he could've won the match all by himself. The Lancers played their game and played well, but still did not have enough to beat the Hillers. Some of the results were disappointing, but moving forward they hope to improve.
The Hopkinton Hillers played one of their best matches all year with great serve and volley play. The Hillers were able to take advantages of positioning by the lancers with excellent volleys. The general power of their serves helped them get an advantage over their opponent along with superb net play. The winners and aces that accumulated were too much to overcome and help lead the Hillers to a season sweep off the Lancers.
Norton Tennis player Brandon Jenkins hopes to keep his tournament hopes alive as he currently sits with a 8-9 record just needing one victory to qualify for the tournament. After earlier defeating Ryan Mastroieni there was hope that he would clinch tournament berth Friday. However, with a disappointing match he fell 0-6 2-6 to Mastroieni, Jenkins faces one more opportunity to clinch berth at Ashland. Jenkins feels confident he can as unlike the Hopkinton match earlier in the year he was able to defeat Ashland's No.1 singles player, Dan Kamerin, in two quick sets.
The Lancers are concluding their season Tuesday May 26th with an away match against the Ashland Clockers. This match is a focus point for the Lancers as they almost pulled away with a victory against them earlier in the season.